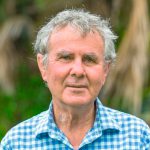 Here you can find snippets of news, items of interest, recent events and short articles posted by our Curator, Ian Hutton.
Subscribe to this blog and receive up-to-date notifications of new posts.
Surfing has been a popular sport on the island for many years now. There are many "elder" surfers who were shooting the waves decades ago; and many young islanders are learning each year.
The museum has very few photographs of surfers, and we are keen to receive any surfing photographs you may have, for archiving in the museum photo collection.
If you have any prints you can give them to Bonk, or drop them into the museum desk and we can scan them and return to you. Digital photographs can be emailed to Anna Thompson or the museum curator. 
When sufficient photographs are assembled we will hold a photo exhibition showing the history of surfing on the island.
Most of the photographs shown below are from the 1970s – and pretty good action to be caught with the old film cameras of the day.
Museum Starlink internet system
The Lord Howe Island Museum now has the fastest, most reliable public internet service on the island.
A unique combination of Starlink and NBN connections is utilised, so that if one drops out the other provides an instantaneous connection backup.
The Starlink system is a satellite internet constellation operated by SpaceX, providing satellite Internet access coverage to 40 countries. As of September 2022, Starlink consisted of over 3,000 mass produced small satellites in low earth orbit which communicate with designated ground transceivers. It is planned to eventually deploy 12,000 satellites.
Visitors to the island can purchase a ticket to allow access to this internet service 24 hours a day within the museum environs.
Leonie and James Furber live in Sydney, and many of their friends knows of their annual pilgrimage to the Island each January. They are regular visitors and are well known by many residents. One of their friends, Ursula Potter, had an engraving of Lord Howe amongst their family possessions, and offered this to James and Leonie to bring over as a donation to the Museum.
Ursula's grandfather was Captain Karl Hermann Winfred Raven (1880-1954) who joined the Imperial German Navy as a cadet aged 10, and rose to the rank of Captain. He spent some weeks during WWI as a Naval Attaché in the German War Headquarters in Berlin. After the war Raven joined the Norddeutscher Lloyd shipping line where he became Director of passenger trade.
Captain Raven collected many naval items, most of which are now in the Bundes Military Archives in Freiburg, Germany. His estate included two engravings of famous English naval men, one of Sir Walter Raleigh, and this one of Admiral Howe, which was engraved in 1795 by Joseph Friedrich Bolt (1769-1836), a stippling engraver from Berlin whose work is in several galleries and museums around the world.
The Museum will include this engraving as part of the redesigned gallery exhibition taking place this year.