Remember Nemo? That cheeky orange ocean traveller of Pixar studio fame? Well, did you know that another species of 'nemo' fish (short for anemonefish) is found only on Lord Howe Island and nearby isles and reefs?
It is called McCulloch's Anemonefish, Amphiprion mccullochi, and its other common names include McCulloch's Clownfish and the Lord Howe Island Anemonefish.
There are about 30 species of anemonefish and 12 of them are known from Australian waters, writes Dianne Bray on the Fishes of Australia website.
Anemonefish have evolved to live among the tentacles of anemones in a symbiotic relationship while avoiding painful stings. The host species for McCulloch's Anemonefish is the Bubbletip Anemone, Entacmaea quadricolor.
Snorkelers in the lagoon often observe these beautiful small fish as they wriggle out to feed on passing prey, quickly retreating to the safety of their prickly protector if alarmed.
In this win–win lifestyle, the anemone's tentacles protect the fish from would-be predators. The host meanwhile has first call on food crumbs and the precious nutrients — nitrogen-rich ammonia — excreted by its live-in lodgers.
The resident fishes also chase away butterfly fish which feed on anemone tentacles. Scientists have found that the anemonefish, by fanning their fins, keep their hosts aerated at night as the level of dissolved oxygen falls.
This photo reportedly shows an aquarium-bred McCulloch's Anemonefish. Photograph from Liveaquaria.
Juvenile McCulloch's Anemonefish, Amphiprion mccullochi, at Lord Howe Island. Illustration by Margaret Murray.
Unlike its more colourful Hollywood cousin, McCulloch's Anemonefish is dark brown in colour with white markings on its snout, head and tail. It is sometimes confused with other species of anemonefish that occur around the island, but in adult A. mccullochi the white bars on its 'cheeks' do not connect at the top of the head, writes Bray, and any yellow colouration on juvenile fishes soon fades to monochrome.

The species is named for Allan McCulloch, a naturalist at the Australian Museum in the early twentieth century. His peers regarded him as one of world's leading fish biologists (ichthyologists). McCulloch first visited Lord Howe Island in 1902 when he collected a specimen of the small reef fish that would eventually carry his name.
While researching my biography of McCulloch (plug: it's called The Naturalist) in the Australian Museum archives, I uncovered a small sketch of this fish made in January 1922. McCulloch was visiting the island to collect specimens for a new diorama at the museum.
McCulloch thought that the specimen in his sketch was the Blackbacked Anemonefish, Amphiprion melanopus. But at the time he had no immediate access to the voucher specimens in the museum collection for checking its identity.
McCulloch died in 1925 but his assistant at the museum, Gilbert Whitley, recognised the fish as a new species and named it for his late boss. Whitley's paper includes an illustration of McCulloch's Anemonefish made by their museum colleague Joyce Allan.
For most of its range, McCulloch's Anemonefish is protected within the Lord Howe Island Marine Park, managed by the NSW Department of Primary Industries. Fishing and taking of any fish is prohibited within three kilometres of the island.
Yet McCulloch's Anemonefish, like Nemo, has somehow travelled the world, and has reportedly now been bred successfully by aquarists in the USA for the lucrative hobbyist market.
McCulloch's Anemonefish, Amphiprion mccullochi, Whitley 1929. Illustration by Joyce Allan from a museum specimen. Courtesy Records of the Australian Museum.
Sketch of Amphiprion mccullochi by Allan McCulloch dated 30 January 1922, which McCulloch thought was A. melanopus. Courtesy Australian Museum Archives, AMS 136/8/58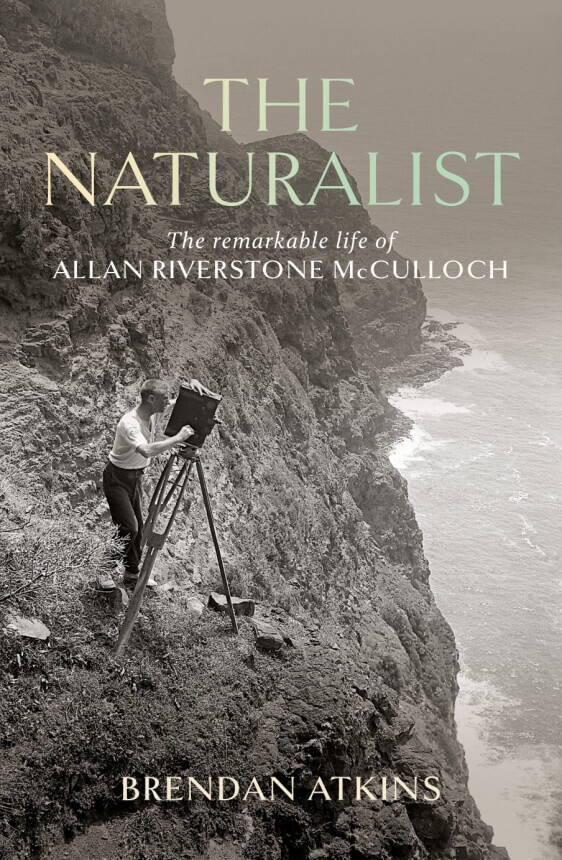 Brendan Atkins is author of 'The Naturalist, the remarkable life of Allan Riverstone McCulloch', published by NewSouth Publishing (in association with the Lord Howe Island Museum), October 2022.
The book reveals the highs and lows of this brilliant scientist and illustrator, who first visited the island in 1902 with Edgar Waite of the Australian Museum. McCulloch returned often, staying with island families to celebrate Christmas and collect specimens for the Australian Museum. Later in life, he retreated to the island to recover from bouts of mental illness. He would be seen sitting in the sunshine, writing articles on his portable typewriter, or taking photographs of island life, or painting some of the amazing marine life from the island.
The Lord Howe island Museum holds several works by Allan McCulloch, including paintings, sketches, photographs and scientific illustrations.
Following McCulloch's  tragic death in Honolulu in 1925, his friends arranged for a memorial to be erected at Signal Point, where it stands to this day overlooking the coral lagoon where he spent many hours studying its fishes and corals.
Author Brendan Atkins has woven a fascinating narrative to reveal the talented life and tragic death of this forgotten figure in the history of the island.
Bray, D.J. 2021, Amphiprion in Fishes of Australia, accessed 04 Aug 2022, https://fishesofaustralia.net.au/home/genus/68
Bray, R.D. & Bray, D.J 2022, Amphiprion mccullochi in Fishes of Australia, accessed 08 Aug 2022, https://fishesofaustralia.net.au/home/species/1273
Liveaquaria, Captive-Bred McCullochi Clownfish accessed 4 August 2022, https://www.liveaquaria.com/product/5204/?pcatid=5204
Richardson, D. 1998. Descriptions of the colour patterns of juvenile anemonefishes (Pomacentridae: Amphiprion) from New South Wales and the Lord Howe-Norfolk Island region. Proceedings of the Linnean Society of New South Wales 120: 81-86. Eds note: This paper is available on Researchgate and the Biodiversity Heritage Library (link on Fishes of Australia).
Whitley, G.P., 1929. Studies in ichthyology. No. 3. Records of the Australian Museum 17(3): 101–143.
Banner photograph: Andrew J. Green, 2015 – courtesy Wimikedia, under a Creative Commons Attibution 3.0 licence.
Original artwork: Illustration of juvenile McCulloch's Anemonefish – Margaret Murray, Lord Howe Island.