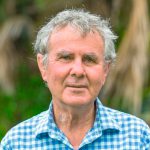 Here you can find snippets of news, items of interest, recent events and short articles posted by our Curator, Ian Hutton.
Subscribe to this blog and receive up-to-date notifications of new posts.
The Lord Howe Island Museum is rather fortunate to have a number of supporters who contribute to the operations and items at the museum.
One of these is Sydney clockmaker Martin Foster. 
Martin has had two careers – one as a clock repairer and the other as Principal Contra-bassoonist with the Sydney Symphony Orchestra.
Martin first came to Lord Howe island in 1973, on a flying boat, and has been back each year for a two-week Christmas holiday with his family, which now includes several grandchildren.
Martin would always call in to see how the museum was progressing, and in 2006 offered to restore one of the clocks on display. The clock dates from the 1880s, and is one of the better American clock brands, made by The Ansonia Clock Co. of New York. 
The origin of the clock is not known, but Martin said when he looked at it, he could see that it had not been maintained, and most likely this was because it was isolated on the island for a long time, away from regular maintenance opportunities.
In December 2010 Martin took the clock to his Sydney workshop, sourced missing parts from the USA and overhauled the movement. The following holiday he brought it back to install in its cabinet that local craftsman George Warner had refurbished in the meantime. 
Now each year when Martin is on his annual family holiday he calls in and inspects the clock operation and lubricates the movement. He said it will be going for many, many years to come.
This year Martin also serviced another clock in the museum – an English clock that was used by the Department of Civil Aviation.
Martin is also a freelance journalist, and has been writing about Horology (the art or science of making timepieces) for many magazines worldwide.
Baselworld in Turmoil, Demise of the Baselworld Show as we know it: Swiss watch industry in turmoil
Martin Foster FBHI, Journal of the British Horological Institute, June 2020
Baselworld 2016, Exposing the untold story of clocks,
Martin Foster, Jeweller, October 2016
Surfing has been a popular sport on the island for many years now. There are many "elder" surfers who were shooting the waves decades ago; and many young islanders are learning each year.
The museum has very few photographs of surfers, and we are keen to receive any surfing photographs you may have, for archiving in the museum photo collection.
If you have any prints you can give them to Bonk, or drop them into the museum desk and we can scan them and return to you. Digital photographs can be emailed to Anna Thompson or the museum curator. 
When sufficient photographs are assembled we will hold a photo exhibition showing the history of surfing on the island.
Most of the photographs shown below are from the 1970s – and pretty good action to be caught with the old film cameras of the day.
Museum Starlink internet system
The Lord Howe Island Museum now has the fastest, most reliable public internet service on the island.
A unique combination of Starlink and NBN connections is utilised, so that if one drops out the other provides an instantaneous connection backup.
The Starlink system is a satellite internet constellation operated by SpaceX, providing satellite Internet access coverage to 40 countries. As of September 2022, Starlink consisted of over 3,000 mass produced small satellites in low earth orbit which communicate with designated ground transceivers. It is planned to eventually deploy 12,000 satellites.
Visitors to the island can purchase a ticket to allow access to this internet service 24 hours a day within the museum environs.